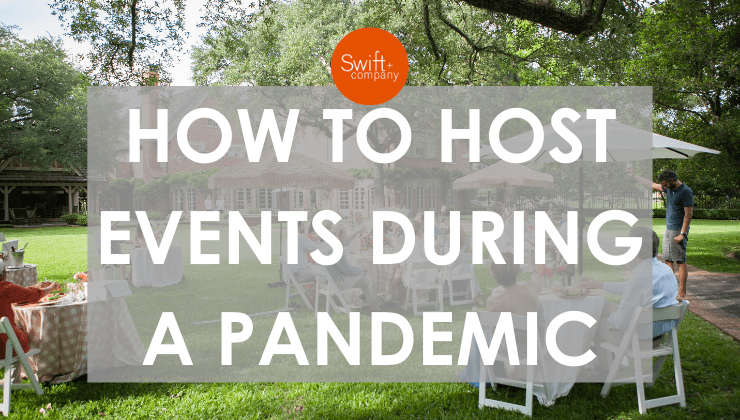 In these unprecedented times, it's challenging celebrating life's special occasions. We asked our Director of Sales, Harold Kelly, to share ways to "How To Host Events During A Pandemic". Here's what he had to say:
Human beings have been getting together for various reasons since time began. We have an innate desire to want to get together and share time, food, company, laughs, etc. During a pandemic it can be challenging to meet this need of getting together but there are some ways of doing it responsibly so that you and your guests can have a good time and keep each other safe to celebrate any type of occasion.
Guidelines for get-togethers and for meetings are changing almost daily so it's important to be informed by what is being recommended on the day/time of your gathering, no matter what kind it may be. Great resources to stay up-to-date on current guidelines are the CDC website or state government website (Texas' linked here).
Here's a few tips on how to host events during a pandemic:
Accommodate those that can't attend or won't attend during this time by incorporating some of the technology available. Zoom, FaceTime, Skype, FaceBook Messaging all have ways of sharing the space with those that need to celebrate remotely. Maybe have 1 or 2 specific times that everyone can call in and get connected to those in attendance (think singing Happy Birthday, a surprise arrival, cutting the cake, opening gifts, etc). Encourage everyone to broadcast live on FaceBook and/or other social platforms so that virtual guests can join the festivities!
Encourage attendance but also don't shame those that err on the side of staying home and/or distant and/or want to wear a mask. If the required guidelines are that everyone wear a mask, then everyone wears a mask. Taking digital temperatures of your guests upon entry is an easy way to take precautions. Create a safe atmosphere for everyone in attendance and at some point you'll look up and realize that everyone is having a good time and they aren't worried about the outside world! Have extra masks for guests and put them at the entrance with a cute little sign to set the tone for your event. Set the expectation that a mask is encouraged while in your home.
Put together a basic hand-washing station with sanitizing wipes, hand sanitizer or soap and water where the guests can get to it with ease. Make fun signs so that it's easy to use and guests will get a kick out of your creativity. Feel free to take ideas from your favorite social media!
Make your guests comfortable and plan to have enough space between them. A great way to do this is to have individual households at their own tables spaced out from each other. Each household would have their own place settings, pre-portioned meals, salt + pepper shakers, beverages, etc. to limit cross-contamination.
If you have a caterer handling the food and details for you like we do at Swift + Company Catering, trust their recommendations for what to serve and how to serve it. We recommend smaller bites and individually portioned appetizers and desserts to reduce any contamination points with serving pieces. We offer high grade disposable serving vessels and cutlery to keep it stylish. Ask your planner and/or caterer what precautions they are taking to ensure safety of staff and guests. For a reference you can view our guidelines at our website.
If you can't have a caterer handle the details for you, plan on different ways for guests to enjoy themselves with food and beverages. Book a food truck or cocktail truck. Pre-package snacks for your guests to enjoy upon arrival and throughout the party. Encourage guests to BYOF (bring your own food). Try and use disposable items where possible such as disposable cups, napkins, plates and cutlery. There are lots of options out there including green/earth friendly items so guests can enjoy themselves and save the planet!
Most importantly remember the reason for the party and try to stay true to that. Finding ways to make the celebrant(s) feel special while keeping safety for everyone a top priority. A popular way to celebrate birthdays is a driveway party where guests drive by the house and decorate their cars, bringing gifts and getting a pre-packaged treat to drive away with. If it's a dinner party, remember the social niceties and go above and beyond to keep those at the forefront. If it's a wedding, think micro and find special ways to acknowledge those that could attend while celebrating those that couldn't.
Have fun at your event, celebrate responsibly and your guests will have a memorable experience. Happy Celebrating everyone!
For catering, rentals or flowers for your upcoming event, send us a message on our Event Information Form.