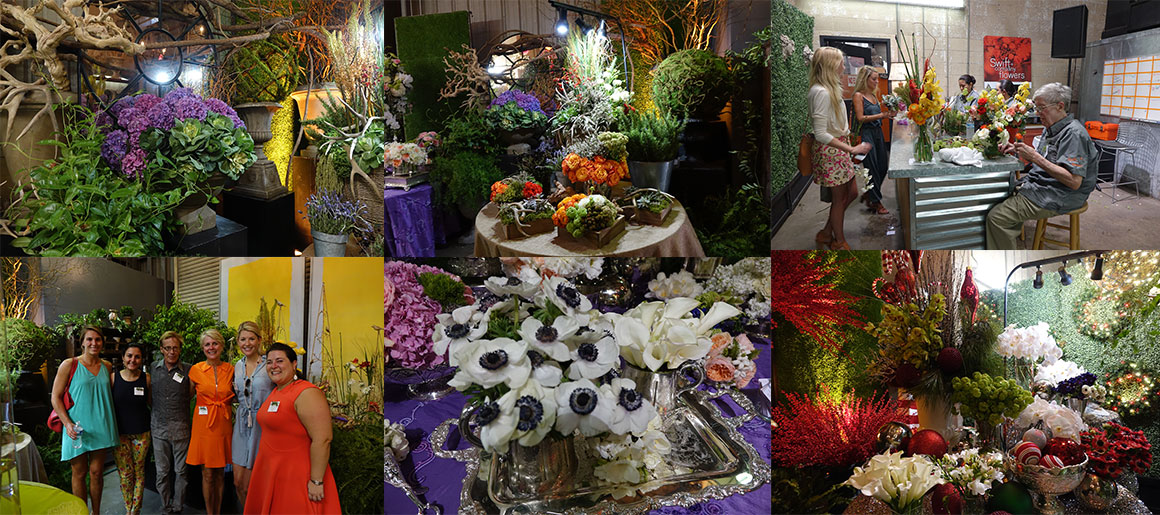 [fusion_text]Wrey West, Swift + Company's in-house florist, has been with the company for over 2 years, but has been in the flower industry for over 30 years. What started out in a garage at Swift's Catering office, turned into a full grown flower studio in October 2014. With their addition of an in-house flower studio, Swift is now the only full production company in Houston – with a flower studio, catering, and events production company. Making them a one stop shop for all your event needs.
The open house took guests through Swift + Company's flower studio where there were different seasonal highlights including a Wedding table, Texas themed table, Summer table and Christmas table. Each table was full of unique touches including antlers, moss balls, glass bottles, urns, vases, grapevines and Swift + Company Flowers signature touch of rosemary.
The open house also offered an interactive flower bar where guests could collaborate with florists to make a take home arrangement. Swift + Company Flowers offers not only event production flowers, but call-in daily flowers for any occasion from birthdays, anniversaries and more.
Guests also enjoyed light bites and beverages while taking a tour through the decor warehouse. They showcased many of their rental items from linens + chairs to tables + china and their signature boxwood walls. There was a lot to see!
Wrey once told me that Elizabeth Swift Copeland challenges him at every event to do something that no one has ever seen before, to find flowers from all over the world and to produce one-of-a-kind work only found at Swift + Company. After attending the open house, nobody would doubt he's more than succeeded. We're all very excited for Swift + Company Flowers future![/fusion_text]