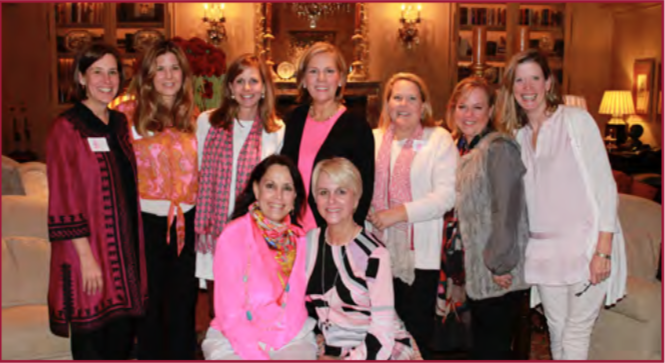 On February 11, 2016 Elizabeth Swift Copeland and the Dallas Alumnae Club gathered together in Dallas, TX for their annual Pink Party to celebrate Dallas Pi Beta Phi Alumnae Club's 100th anniversary!
In celebration of this milestone, Swift + Company catered the event as well as provided the floral design and decor.
This year Laura Kellogg, Terry Hill and Kathy Shuford chaired the Pink Party at Shuford?s home.
Guests donned their best pink outfits, sipped on pomegranate prosecco sparklers and enjoyed delicious hors d'oeuvres, a dinner buffet and even a cookie.
Elizabeth wanted to make sure this party was pinked out! She washed the façade of the home with pink lights, decorated the giveaway table with pink linens and even the specialty drink was pink.
Guests enjoyed Tuscan salad of goat cheese and pears, seared Chilean sea bass, ravioli filled with butternut squash, inside-out eggplant parmigiana and Swift + Company's signature cheese soufflé!
The cookie shine consisted of hand painted sugar cookies in the shape of angels and Pi Phi letters, raspberry brownie 'O' s, chewy chocolate ginger cookies, tiny chocolate chunk cookies, mini champagne cupcakes, lemon curd tartlets and an assortment of French macarons laid out to spell Pi Phi.
As a to-go treat, guests left with petite signature swiss cheese soufflés tied with wine and silver blue ribbons, which included souffl? instructions and a few recipes from the Pink Party menu.
It was a terrific evening with many wonderful Pi Phi sisters gathering together!
Please check out the Arrow Points newsletter for photos and more information on this event!